Why Give?
Giving reflects a grateful heart and hundreds of individuals and families give generously and joyfully every week to continue the ministry of ChangePoint. Giving is one of our values - to invest. No matter where you've been or what you've done, you matter to God. We're glad you're here. Each service and event experience is our gift to you, no strings attached. If you're a guest, please feel no obligation to give. But if you call ChangePoint your home, join with us to make a difference in our community, we invite you to give joyfully.
Where we spend our money, our hearts follow. And, as a church family, we consider it a privilege to give our money to such a worthy cause.
Every week about 1,000 kids are being taught that God loves them and will be with them along their Quest.
Every week men and women are changed as they ask, "So What?"
Every week people are being saved from addictions and put on a path to recovery.
Every week halfway house men are being ministered to as we teach them skills and how to give their lives away. A
concept that changes their lives forever.
Every week hope and help is being brought to the poor locally.
Each month as we support ministries locally and globally to further the gospel message.
See how giving has affected this family member of the ChangePoint family,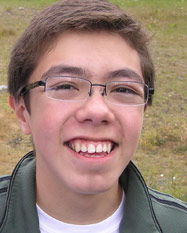 My name is Thomas Krasnican and my family has gone to ChangePoint since I was in kindergarten. I accepted Jesus because I was encouraged to by my parents and the children's ministry staff and volunteers. I am really thankful for the impact that Summit Kids, Due North, and the other youth ministries at ChangePoint have had on me.
Money has always been important to me. I have always had ways of getting money and I have always had even more ways to spend it. I can spend a few minutes on the internet or in a music store and find about 20 new things that I have always wanted. But ever since the concept of money entered my life my parents encouraged me to give some of it back where it all comes from.
God has been teaching me that He will provide when I rely on Him. I have found that when I get paid at work or something and then I give some of it back to God, I still have enough money left to do pretty much whatever I want with it. There has never been a time that I have been deprived of something that I wanted because I put money in the offering at church. Instead, when I give Him back that small amount, God gives me a very confident sense that I've done the right thing.
There is a really cool verse in Malachi 3 where God has just been telling the people of Israel that they are under a curse because they haven't been bringing Him their tithes and offerings. He says to "bring the whole tithe into the storehouse..." then "'Test me in this,' says the LORD Almighty, "and see if I will not throw open the floodgates of heaven and pour out so much blessing that you will not have room enough for it.'" That verse makes me want to give not because I have to or because I will feel guilty if I don't but out of expectation for the greater reward - God's reward.