Nothing is more worthwhile than the investment we make
in our children's spiritual lives.
We disciple hundreds of children every single week through AdventureLand, Awana, and Kid's Club.
FAMILY CLUB WEEK in the Park!
Hey families, invite your neighbors and join us for this free family event!
We are excited to launch a mini VBS format where families can attend together and discover that they are Treasured and Priceless to God. The club will be offered 3 different weeks: June 7-10, July 12-15, and July 26-29. The same material will be covered each week, so chose the week that's best for you. No registration required as this is not a drop-off event. Each day during the event families can expect games, stories, crafts, music and snacks.
Questions? email cpkids@changepointalaska.com

If you would like to donate snacks for these events click the button below for a specific list. Please return donations to ChangePoint by Sunday June 6th.
Invite a friend or neighbor, bring a lunch or snack, and meet up with other moms!
Watch weekly lesson videos and download weekly handouts to do with your kids at home!
AdventureLand (birth - 5th Grade)
(All Campuses)
During our Sunday morning services, we offer AdventureLand for children from birth through 5th grade. AdventureLand uses a hiking metaphor to teach kids what it means to follow Jesus. In the Elementary classes kids can use a H.I.K.E.R. Guide, to help them learn a value-driven framework for spiritual formation.
Elementary Kids earn Mountain Money and H.I.K.E.R. awards, and all our kids receive loads of encouragement from their leaders, and make lots of new friends. Your children will gain confidence to spend time with God, navigate His word, and partner with others on their very own spiritual adventure.
If you have any questions about AdventureLand please contact
Vanessa Makihele
.
AWANA (birth - 8th Grade)
(Raspberry Campus Only, Sept-May)
During the school year, we offer Awana in place of AdventureLand for children from birth-8th grade at our Sunday evening service (6:00pm at CP Raspberry). Awana offers a fun, proven approach for early evangelism and deep discipleship.
Scripture-based programs and exciting games promote Bible literacy and help kids develop lifelong faith in Christ. In Awana, kids are placed on teams for the whole school year and enjoy friendly competition within our Awana club and with other clubs from across Alaska. Through the Awana program, kids internalize more than 700 Bible verses that will be with them for a lifetime.
If you have any questions about Awana please contact
Commander Putt
.
Kids-Club (birth -12 years)
(Raspberry Campus Only)
KidsClub is a support ministry for adult training opportunities & events throughout the week. KidsClub provides a safe, fun learning environment for your children from birth through 12-years-old while you're growing deeper in your faith.
KidsClub includes a full lesson and activities for every child, every time.
For most events there is a small fee for the use of KidsClub. To ensure a quality experience, we require prior registration for all children in KidsClub. You can register your children at the same time you register for your event and the cost will be listed in the event information.
If you have any questions about KidsClub please
contact
Vanessa Pedraza
.
Parent Child Dedication Workshop
(Raspberry Campus Only)
Parent Child Dedication is an opportunity for parents to publicly declare their intention to be the spiritual leaders of their home and to commit to raising their children in the church. This workshop is designed to prepare parents for the Child Dedication Celebration Ceremony in Sunday services.

This workshop is offered 3 times per calendar year and is designed for parents. When registering for the class please register the parent's/guardians attending and not the child(ren) to be dedicated.

Our next Parent Child Dedication Workshop is scheduled for Sunday, Septmber 12th at 11:30 AM. Dedications will take place in service(s) on Sunday September 26th.
Children's Baptism Workshop
(Raspberry Campus Only)
Any child who has questions about baptism or is ready to make a commitment of faith and be baptized can attend this workshop with their parent/guardian. This workshop will explain what baptism is and why it is significant in the life of a follower of Jesus.
Workshop attendance is required in order to participate in the baptism celebrations in Sunday services.

This workshop is offered 3 times per calendar year and is geared towards elementary age children. Parents are expected to attend with children.

Our next Children's Baptism class is scheduled for October 3rd at 11:30 AM. For those who are ready, Baptisms will take place on Sunday, October 17th.
Kids Discipleship Class (4 weeks)
(Raspberry Campus Only)
This class is specifically designed to help elementary children grow in their faith and understanding of what it means to be a follower of Jesus.
During the 4-week class we will cover a variety of topics:
-a deeper understanding of salvation
-baptism and communion
-what it means to be a church "member"
-the importance of Bible reading, prayer, & worship -service and giving
-how to tell your testimony
-continuing to grow as a Christian in difficult times

This class is offered 3 times per calendar year and is designed for elementary age children.

Our next CPKids Next Steps Class begins October 24th.
Life in Christ for the next generation is our vision and mission in AdventureLand for birth through 6th grade, and that is accomplished as we invest in, love on, pour into and pray for children each week. Every believer is vital to the work and worship that takes place  in the church. The church is not a building; WE are the church! So join us in being the church as we use the gifts, skills and interests God has given each of us to serve the youngest at Changepoint.

By saying yes to volunteering, you are saying yes to something much bigger:

· You are serving others
· You're giving your life away
· You become part of community
· You discover how God has wired you
· You use the unique gifts God has blessed you with
· You take part in expanding the Kingdom of God
· You are making an eternal impact
· You make this big church small
· You become a disciplemaker
· You Glorify our God
· Your life will never be the same again

Our "VIP" volunteers are asked to serve one service, every other week. Children under 12 can serve in preschool or nursery, as long as a parent serves with them.
Family Ministry Director
Raspberry Campus
Family Ministry Director
Tikahtnu Campus
Family Ministry Director
MatSu Campus
Awana Commander
Raspberry Campus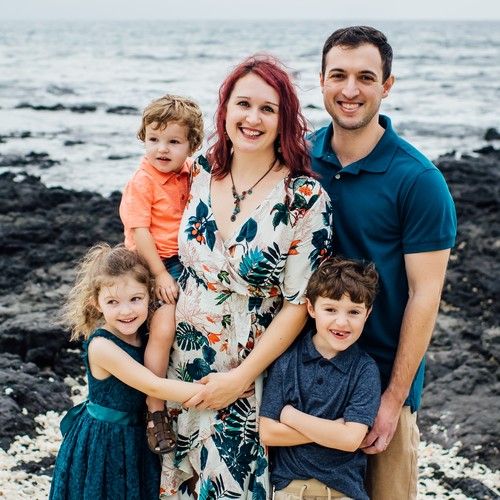 Family Ministry Admin. Assistant
Raspberry Campus

Nursery Director
Raspberry Campus
Preschool & KidsClub Director
Raspberry Campus
Elementary Director
Raspberry Campus